Kuala Lumpur (KL) in Malaysia is a wonderful city to visit with the entire family. There is always something for everyone to enjoy, be it shopping, extreme adventures or heritage walks. But if you're looking for kid-friendly attractions, here are some of our suggestions.
Sunway Lagoon Subang Jaya. This not-to-be-missed theme park is made of 5 main areas: a zoo, a water park, an amusement park, a 'scream' park and an extreme park. It even has a massive man-made beach! What's great about Sunway Lagoon is that regardless of your children's age gaps, there's always something for everyone, even the parents!
This theme park is located in Subang Jaya, which is roughly 20 minutes away from Kuala Lumpur by car. But even if you're just traveling outside Malaysia's capital city, you'll feel like you're on a mini holiday when you step into Sunway Lagoon. Tired? No problem! Sunway Lagoon is right next to a mega shopping center, Sunway Pyramid!
Petrosains Discovery Center Suria KLCC. This interactive science museum is located at the heart of the KLCC complex. It's a fun way to tell the story about the technology behind the petroleum industry. Kids can get their hands on the exhibits, which is great when compared to outer museums where you need to stand behind a glass wall and look from a distance. It's located on 4th floor of one of Malaysia prime shopping malls, Suria KLCC.
Aquaria KLCC KLCC Convention Centre Complex. This is another must-see for families visiting KL with kids. The main attractions include stunning sea creatures such as sand tiger sharks, giant groupers, green sea turtles and even giant pacific octopi. The most impressive feature of Aquaria KLCC is the 90m underwater tunnel where visitors can experience an "under the sea" visit and watch the amazing sea creatures go about their day.
Aquaria KLCC and the Petrosains Discovery Center are right next to the majestic Petronas Towers. They're great places to visit while you're waiting for the towers to light up at night.
Royal Malaysian Air Force Museum Wilayah Persekutuan, Kuala Lumpur. This aircraft museum is located at the KL Airbase, which is the oldest in the country. It used to house the old Sungei Besi Airport, which served as Malaysia's first international airport until 1965 when the Subang airport opened. The aircraft museum opened in 1985 and since then, it managed to grow its collection of retired aircraft and helicopters. The kids will enjoy sitting in the cockpits make believe they are flying the aircraft. There's also 2 small galleries that you can check out for some historic details.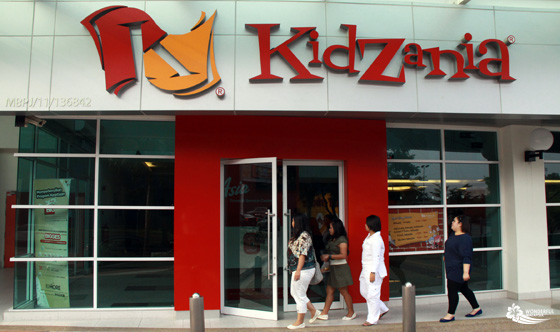 Kidzania Malaysia Petaling Jaya, Selangor, Malaysia. Malaysia's Kidzania is located just 20 minutes outside of Kuala Lumpur. It's huge kid-friendly zone where the little ones can live out their dream jobs be it a doctor, a fireman, a flight attendant, a pilot or more. There's even a cooking studio where kids can learn how to prepare dishes, how cool is that? We think it's even more fun for the parents to see their kids in action. Kidzania is located next to The Curve shopping mall and IKEA, giving you more than just one place to explore with the kids.
Getting Around KL With Kids
A family-friendly hotel in Malaysia can offer some assistance when you're trying to fix your travel itinerary for the day. Make sure you choose a hotel in a good location where you can easily walk to the nearest train station and go to your next destination. Many of these kid-friendly places can be accessed by train. You can also conveniently take a cab or hire car services from Uber or Grab. If you're planning to visit Malaysia soon with the kids, be sure to check out these attractions for the kids. We hope that these attractions will make your trip even more enjoyable.
—
Sources: http://www.wonderfulmalaysia.com/attractions/aquaria-klcc.htm http://www.malaysia.travel/en/places/states-of-malaysia/kuala-lumpur/petrosains http://www.suitcasesandstrollers.com/interviews/view/malaysia-with-kids-kuala-lumpur-insider http://www.malaysia-traveller.com/royal-malaysian-air-force-museum.html http://www.lifestinymiracles.com/2013/09/12-tips-to-maximise-your-day-at-kidzania-kuala-lumpur/